API Plan 21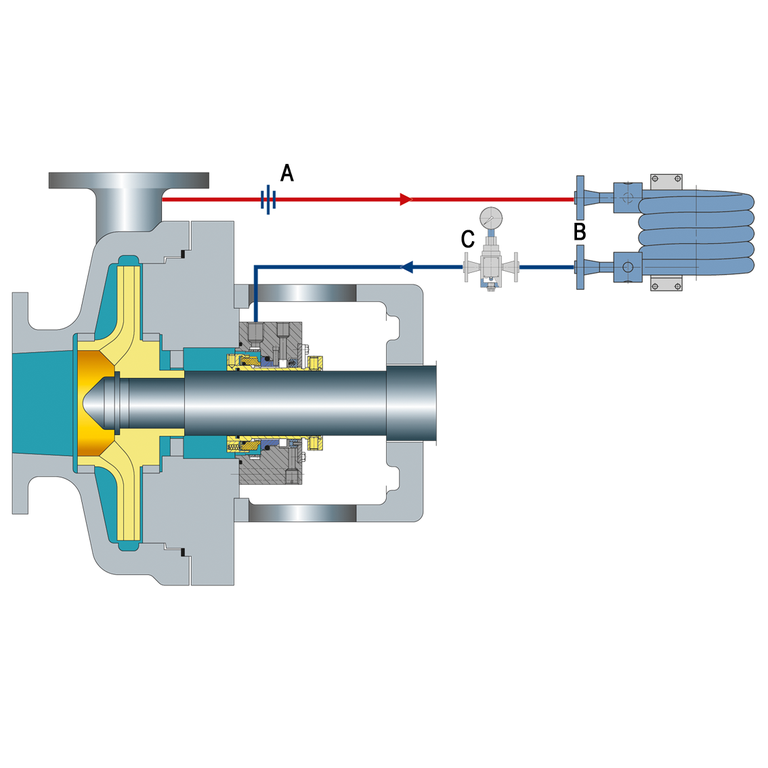 API Plan 21
Recirculation from pump discharge through a flow control orifice and cooler into the seal chamber.
A Flow control orifice
B Cooler
C Temperature indicator
---
Seal chamber details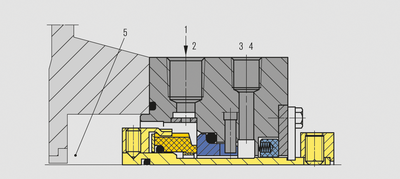 1 From high pressure region of pump (pump discharge or pump discharge piping)
2 Flush (F)
3 Quench (Q)
4 Drain (D)
5 Seal chamber

Example seal: EagleBurgmann H75VA4-S single pusher mechanical seal.
---
P&ID according to API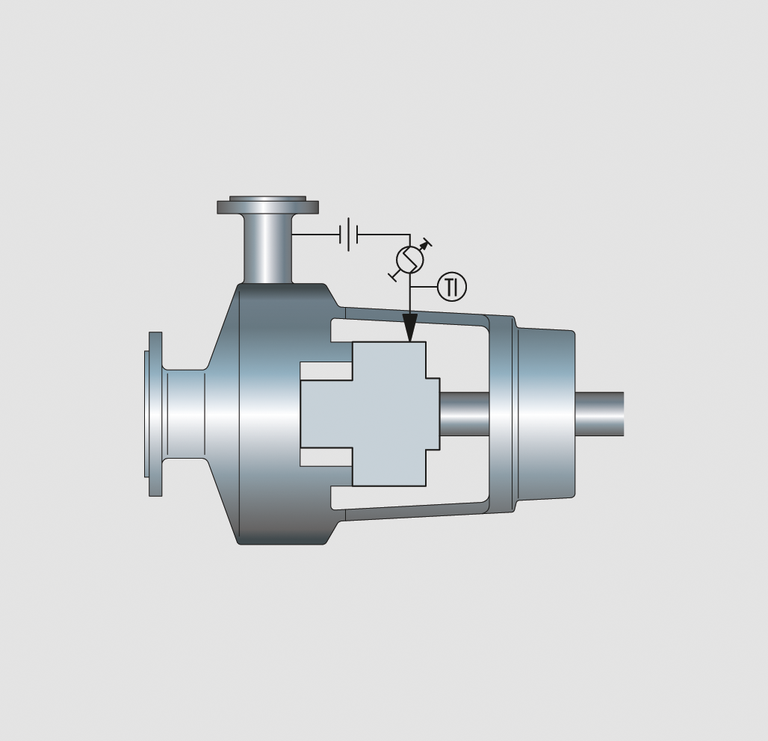 Key
TI Temperature indicator
Features
Provides a cool flush to the seal.
Plan 21 is self-venting.
Improves the product temperature margin to avoid vapor formation.
Helps reduce coking.
Helps improve lubricity (e.g. hot water).
Utilizes a close clearance throat bushing for better efficiency.
Application
Fluids with low vapor pressure margin in seal chamber.
Remarks, checkpoints
Minimum size of the orifice should be 3 mm (1/8").
High cooler duty is leading to fouling and plugging on the water side.
Plan 21 consumes more energy than Plan 23 because the fluid needs to be pumped back continuously.
Potential plugging on the process side if the fluid viscosity gets high quickly.
Pump media characteristics
Close to vaporization point.
Hot, non-polymerizing clean fluids typically less than 176 °C (349 °F).
Bad lubricity fluids (like hot water).
Location, function
Process side
Flushing and cooling
Increases vapor pressure margin
Configurations
1CW-FL, 1CW-FX, 2CW-CW, 2CW-CS, 3CW-FB

3CW-BB*, 3CW-FF*, 3NC-FB*, 3NC-BB*, 3NC-FF*
* Remark: The configurations listed for each individual piping plan are to be understood as recommendations including possible utilizations which may also be applied.